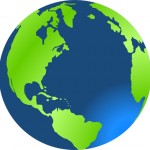 FAU Libraries Oral History Digital Collection features the interviews of Dr. Leonard Berry who discusses his environmental work experiences and research contributions. This effort is in celebration of  Dr. Berry's renowned career of teaching from a global perspective to foster an awareness of environmental issues.
In observance of International Mother Earth Day, FAU's Digital Library highlights the contributions of  this Distinguished Research Professor, whose work spans three continents. In Africa and Asia, Dr. Berry studied tropical environments and assisted in regional planning for the Government of Tanzania. Since coming to the United States in 1970, he has worked on environmental and development training programs for the U.S. Agency for International Development(USAID), United Nations Development Program, and United Nations Environment Program. The British-born environmentalist also worked for the World Bank and the Global Environment Facility in a number of capacities.  
Founder and director of  FAU's Center for Environmental Studies, Dr. Berry, who was also an FAU Provost, is Director of the Florida Climate Change Initiative and principle investigator on several projects including a Florida Department of Transportation study to assess the impact of sea level rise on transportation infrastructure. In 2010, he was named an FAU expert on the oil spill in the Gulf of Mexico.
Listen or read Dr. Berry's interview conducted as part of the Department of History's Oral History project.